Retooling for hog hunting this winter with a thermo imaging rifle sight. I already have a Firefield night vision scope that served me well last winter hog hunting in Florida and will continue using the night vision scope. Night vision is great for target identification where I can recognize certain people and animals. With night vision I can see the stripped tail and masked face of raccoons and see the spots and markings on hogs. But night vision fails to see into vegetation but thermal imaging will. Thermal imaging will not see through trees or other vegetation obstructions. But, if a wild hog or any other animal is visible through openings in the vegetation, even small openings I'll know a warm blooded animal is there because they will show "white".
Below is a picture of my neighbors small dogs to give you an idea what an animal will look like through thermo imaging.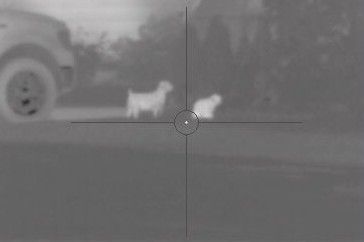 Here is another picture taken from my front porch. A pickup truck towing a boat. We see the headlights because they are warm not because they are light. Notice the hot tires on the trailer and truck. Anything warm shows up as white. The thermal scope has a setting for "White hot" and "black hot" with white hot in use.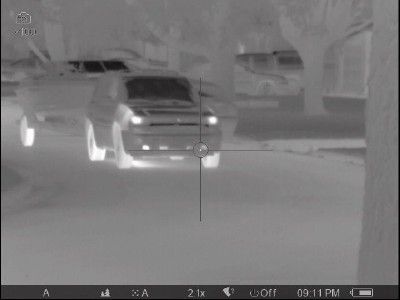 I bought this scope because it takes pictures and videos and stores them inside the scope on a memory card. It also has a Wi-Fi system so my buddy can see what the scope sees on his I-phone. Some settings can be changed from my telephone and the telephone can trigger picture taking. The scope also has a remote control and has a function for range finding. I spent the last week figuring out how all these things work.
It has not been sighted in yet. But they claim it can be sighted in with a single shot by placing the crosshairs where the bullet went then saving that position. We shall see on that.
As for the cost of this thing. I'll need to kill a bunch of hogs to make it pay. I took the money out of the kids inheritance fund. I hate to think how they would spend the money. My wife encouraged me to buy it but she really likes eating roasted wild hog.