Each year I go to a ranch in the panhandle of West Texas. I help out with the springtime annual round up and branding. In exchange, I get to hunt for Aoudad sheep, hogs, coyotes, and any other varmints while I'm there. It's become an annual thing that I started with my friend, the ranch manager, more than 15yrs ago.
My last trip was this past spring.(I'm sure getting the itch to go again) I finally caught up to a good ewe in some caprock. I made a 210yrd shot. She was moving as I had spooked them. But, the good Lord shined on me, and I connected. Dropped her almost immediately. I had a heck of a time getting her down off the caprock, as you'll see in the pic about how far, and high she was.
My hunts there are all spot and stalk. There are no stands to use. The hogs I kill there are also all spot and stalk. It's the only ranch I've ever hunted where I could kill hogs in mid day, and during daylight hours. I've killed several during mid day hours near water holes.
Here are some pics of the aoudad I shot this past spring. I like the ewes cause the meat is much better eating than the big rams. I've killed several big rams, and the meat is a bit gamey. But, the ewes is better than beef.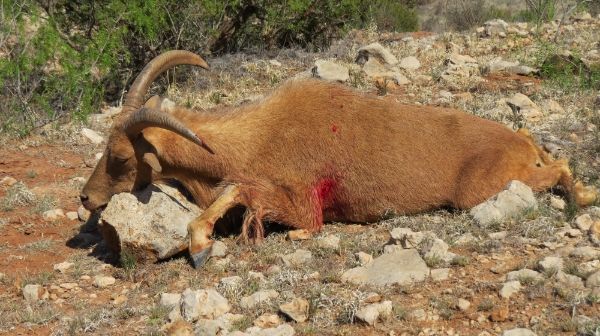 Look at the top of the photo, above the aoudad, and you can see my truck. I had to drive quite a ways to get that close. The truck is approximately at the spot of the shot, which I messured with a range finder at 210yrds. The caprock she was on is some of the lower caprock. There are several area's that are too tough to get to, and way to high and steep for any human to climb. I got lucky, and got one down lower.